This
post
was originally published on
this site
Nike's newest sneaker, the HyperAdapt 1.0, comes with an auto-lacing system, a light-up midsole, and a $720 price tag. This is the first time that the sportswear brand has produced a commercially available shoe that laces on its own, the concept first being introduced on the Nike Mag in 1989's Back to the Future Part II. Nike made the Mag and its power-lacing a reality, just like in the film, for the first time ever earlier this year. The only catch was Nike only made 89 pairs, and they were only available through raffles or auctions. The HyperAdapt 1.0 is being sold to the public starting tomorrow, Dec. 1, but is the price too high?
First things first: Auto-lacing sneakers are nothing short of revolutionary in the footwear industry. Not only do they allow athletes a more customized degree of fit, but they can also improve the quality of life of people with disabilities, like Michael J. Fox — the man who wore the sneakers in Back to the Future and debuted the Nike Mags — who suffers from Parkinson's disease. Nike's also created a "FlyEase" sneaker, which is a no-lacing system inspired by Matthew Walzer, a teenager with special needs. No one's discrediting the fact that Tiffany Beers, Nike's Senior Innovator, has created one of the most groundbreaking sneaker technologies ever. The price, however, is making people cringe a bit.
The HyperAdapt isn't the most expensive sneaker ever sold by Nike. The brand had two pairs of handmade Air Force 1s–done in anaconda and crocodile skins, respectively–in 2007 that retailed for $1,000 a piece. There was also the Nike Hyperdunk and Lunar Trainer 1 from 2012 that were priced up to $250 because of the advanced Nike+ training system that was built into the sneakers. The latter is the most comparable to the HyperAdapt, not only because they were performance sneakers, but that they came with some added bells and whistles that helped Nike justify raising its price. It wasn't marketed at sneakerheads who simply wanted the coolest shoes on the market, but to tech nerds who wanted the most futuristic sneakers on the market. The HyperAdapt and its $720 retail price would appeal more to Doug Funny's next-door neighbor Mr. Dink, who would buy the most technologically advanced items and describe them as "very expensive."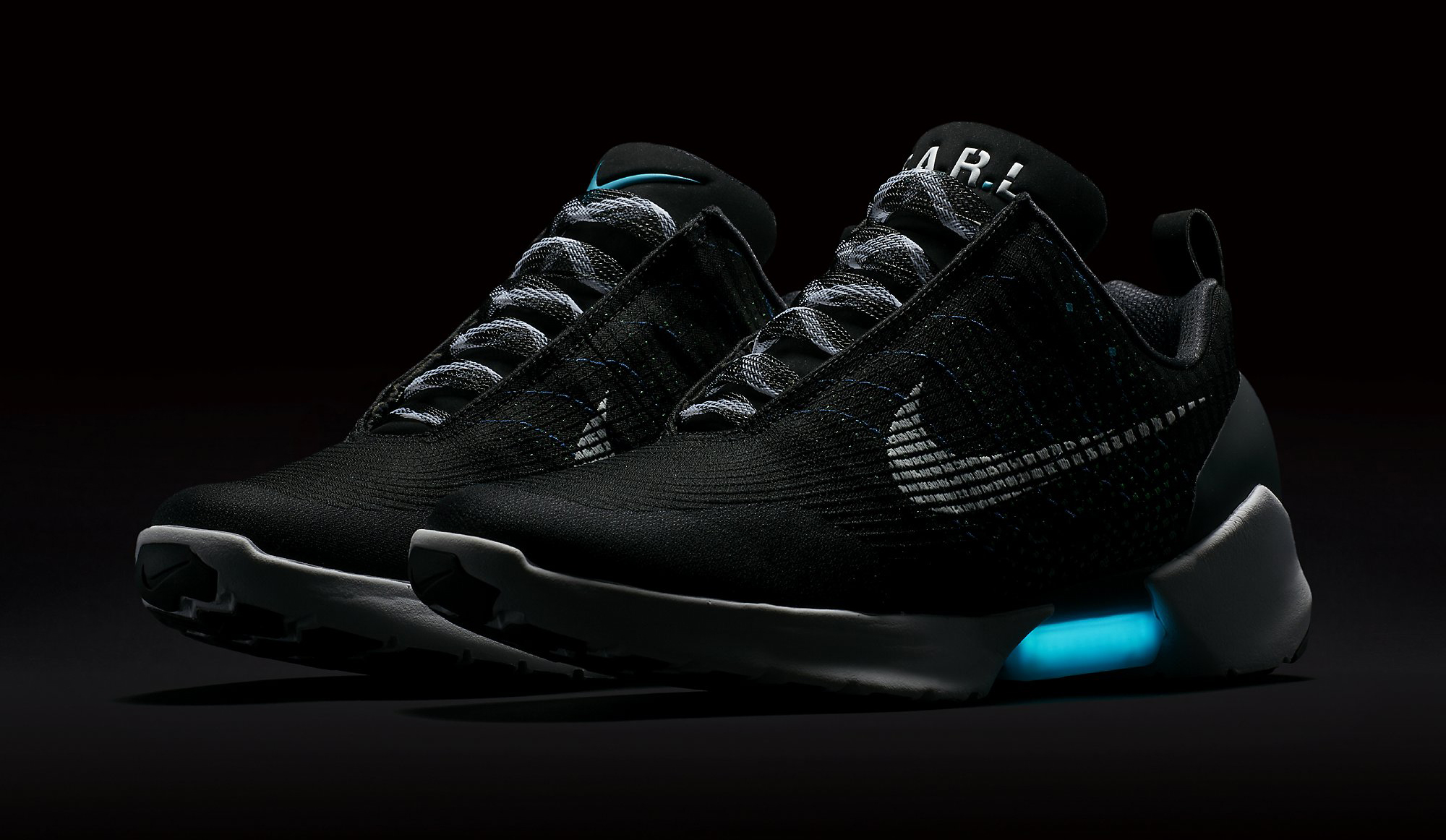 But is $720 really all that out of reach in the grander scheme of the sneaker market? According to Forbes, the average price of a men's athletic sneaker was $72 in 2013. The average weekly income in America, according to the Bureau of Labor Statistics, is $827. People, however, are already trained to to shell out major bucks when it comes to highly sought-after sneakers. The recently released A Bathing Ape x Adidas NMD resells for an average of $1,222, according to StockX, while the Just Don x Air Jordan II goes for around the same price. So why are people against a sneaker that retails for over $700 on a genuinely innovative shoe when they spend even more cash on shoes with technology that's 30+ years old or were designed for lifestyle purposes? Well, it comes down to perception.
The reason a lot of people are talking about the HyperAdapt isn't just because it laces itself up, but because it costs $720. (The sneakers were even falsely reported to be $1,000.) If so, that's genius marketing on Nike's end.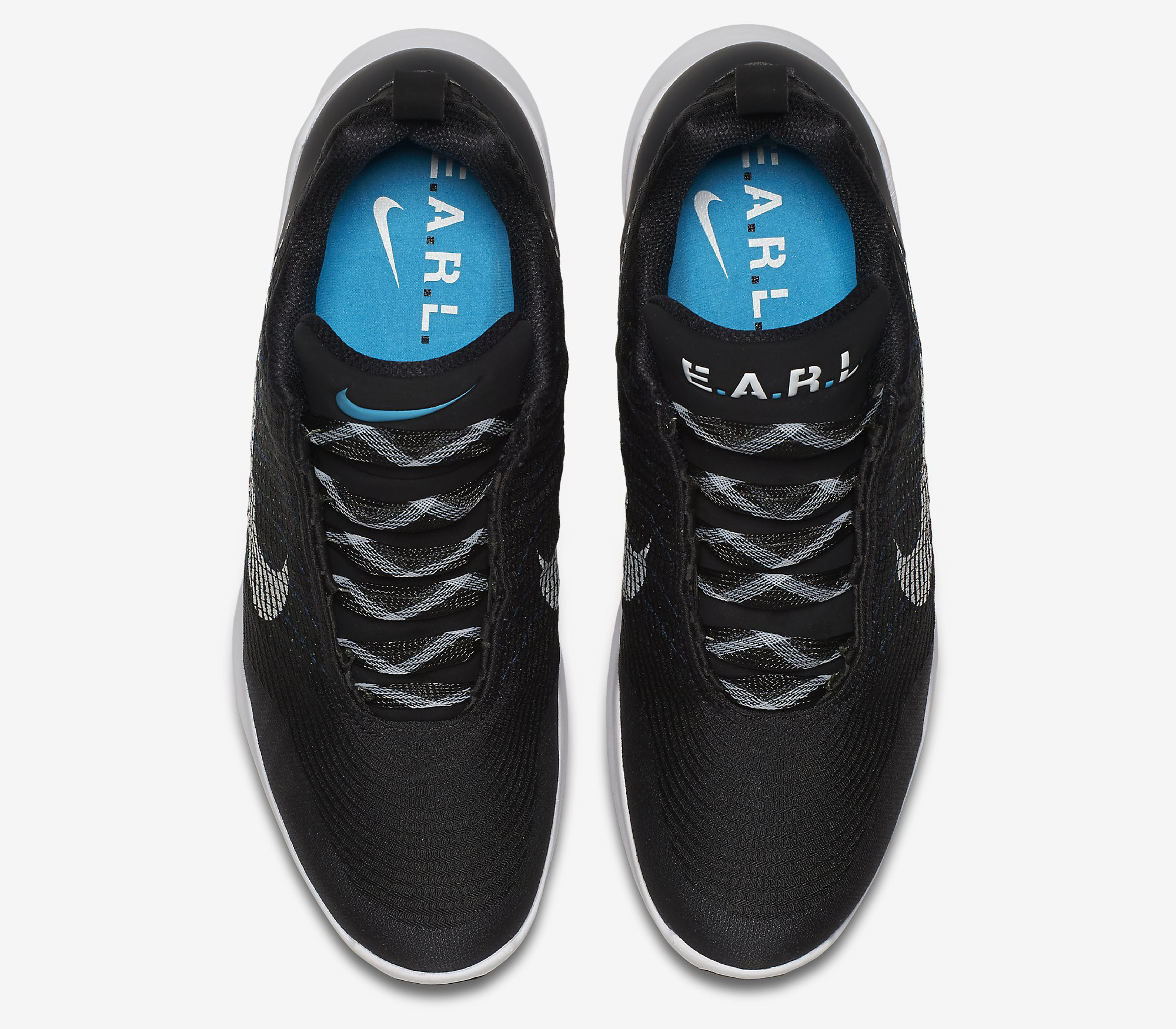 The HyperAdapt 1.0 wasn't created with sneakerheads — the ones who line up for Yeezys or trade shoes just to get newer and more-hyped ones — in mind. They're for people who geek out over Tesla cars, spend $400 on a new Apple watch, or swap out their smartphones every five months. Nike didn't reveal the HyperAdapt story within an interview with Tiffany Beers, Vice President of Design Tinker Hatfield, and CEO Mark Parker on a sneaker blog or with a sports publication, but via a cover story with tech magazine Wired. Not only sneaker enthusiasts are complaining about the price of the sneaker, though. Al Roker joked on the set of the Today show yesterday, "$720? You might as well hire someone to tie your shoes." My dad made a near identical joke to me two weeks ago, too.
It's interesting that Nike's following through with such a high entry point with the auto-lacing technology. The brand recently lowered the prices on its signature basketball sneakers after complaints from Foot Locker that people weren't willing to spend more than $200 on a pair of LeBron James shoes. The HyperAdapt is over three times more expensive than the LeBron's latest sneakers.
It's natural for sneakers to get more expensive over the years. The New Balance 990 turned heads when it was sold for $100 in 1982, but the company now sells premium versions of retro sneakers for $340. Maybe sneakers will cost $720 on average at some point, or at least people won't bat their eye at that sticker price. But the HyperAdapt represents much more than a bar being raised in the retail world, it truly embodies the direction that athletic footwear is headed in. When Marty McFly was transported to a fictional 2015 in 1989, people could only imagine that sneakers would light up and lace by themselves. It's only a year past that vision of the future, and auto-lacing sneakers are here. The only thing we couldn't fathom is how much they'd cost to own.