This
post
was originally published on
this site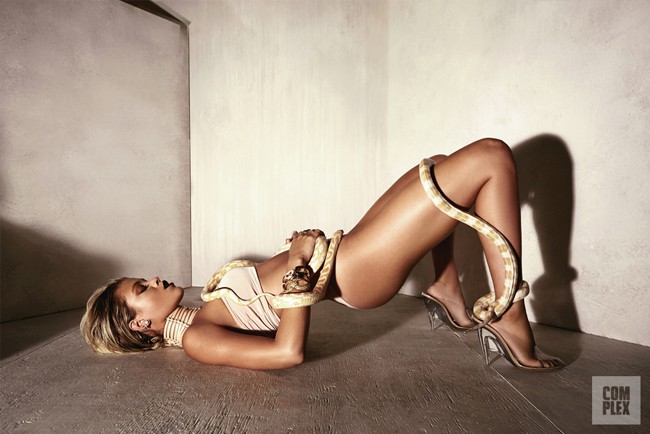 For the record, that person for Richie right now seems to be Blampied—not Bieber. In fact, Blampied seems to be some sort of spiritual guide. When asked if she's a feminist, Richie defers to Blampied, saying, "I feel what you feel!" At one point, Blampied nearly takes over the conversation, as if she's the one being interviewed. Perhaps they're discussing Bieber in veiled terms—they never mention him by name. But the only way he seems to figure into this equation is that he brought them together. They seem genuinely delighted to have found each other.
"Bronte and I were watching this Bible study the other day about loving your neighbor, and we felt that was really cool and important," Richie says. "First of all, you need to love yourself, 'cause that's the only way you're going to get by and be OK as an individual. But it's important to make other people feel loved because you never know what they're going through."
Blampied chimes in and gives a condensed version of the speech that your girlfriend who hated your boyfriend gives post-breakup.
"We definitely are surrounded by lots of girls who need to realize they are worth a lot and need to be strong, independent women. Both of us agree that we don't want to take anything negative from anyone," she says, and I wonder if she's talking about Bieber and his alleged flings.
"If you're going to be in a relationship," Richie adds, "it's important to be stable with yourself first. You've got to love yourself a lot to love someone else."
"'Cause if you're in a bad place, it's going to be hard to love someone else," Blampied finishes.
Richie laughs and looks at her. "It's a messy world. There are a lot of terrible intentions—misleading intentions. It's really important to be open-minded, but at the same time be close-minded, when it comes to giving your love and affections."
"You have to be careful about who you trust," Blampied says, and both girls chortle. "Especially in L.A. We see a lot of girls our age getting kind of lost and allowing people to treat them badly. You just have to be aware of what peoples' intentions are."
"It's hard to find people in L.A. that you can actually trust. So when you find that, you really need to hold onto it and savor it," Richie says.
It seems like they have—in each other. Was this whole conversation really about their experiences with Bieber? They won't say.
---
"The tail went straight into my vag!" Richie squeals. It's the day before her meet-up at the Polo Lounge, and the snakes who've spent all night wrapped around Richie's various body parts are seeking respite from the blazing heat of photographer lights. Earlier, an orange and black milk snake becomes a necklace before slithering across Richie's baby-bottom-smooth cheek to rest an inch above her eye. Its tongue darts out and I shudder, a good 15 feet away.
When news of Richie began spreading in supermarket rags, everybody, including Richie herself, assumed she'd embark on a music career.
"I wanted to have a music career for a long time. Music is my life and it speaks to me—Rihanna, a lot of Frank Ocean, I love Shawn Mendes!" she says. "But I don't want my own music career. I'm Lionel Richie's daughter. When I do this I have to be 100 percent good, and it was too much pressure for me. I just want to have my own direction and be free with it. I don't want anyone to have a hold on me because of my dad."
Yet it remains to be seen if she can carve out a career apart from her father. From the outside, inheriting wealth and fame seems like the easy life, but even then there are hurdles. Richie, who is 5'6″, has booked shoots in magazines like Elle and Vanity Fair, but her casting has rankled some people in the fashion industry. She shrugs it off.
"It's not like I called and begged these designers to work with me. They felt my vibe and we were cool and that's that. People obviously don't respect some of the shoots I do because I'm short and this or that, but I really don't let that stuff get to me."
Hollywood prejudice, though, is a different story. She hasn't encountered any overt racism in the fashion world in particular, but discrimination is plentiful in Los Angeles. When the topic is broached she gets flushed with anger for the first and only time.
"I'm very light, so some people don't really know that I'm black. I've been in situations where people will say something kind of racist and I'll step in and they'll be like, 'Oh, well, you're light,'" she says, her eyes flashing. "That still doesn't cut it, buddy. It's 2016—you better get your shit together before you get slapped out here."
She insists she won't be a socialite—and her devoted Christian faith and her refusal to answer questions about her A-list circle of friends seem to reaffirm that goal. But details about a fashion line she hopes to launch are nebulous, and she's fuzzy on anything concrete other than being excited to "work hard."
"You're a socialite because you're born into it. That's not what I want. I actually really enjoy work ethic," she says.
Richie stands, anxious to wrap things up. She has a busy schedule today. She and Blampied have a SoulCycle class to catch.